Iceland has become such a must for today's travellers also because it's possible to see it all in a relatively short time. Making a journey around Iceland is actually the best way to spend your time here. In this article, we'll try to give you some good tips on what to visit and how. The circle is divided into four parts and all of them have their specifics and beautiful sights. So, ladies and gentleman, fasten your seatbelts, here we go.
A Journey Around Iceland

Western Iceland
When deciding to go on a trip around Iceland, you'll probably begin in the westerns part of the country. There are several reasons for that: one, the international airport Keflavík is located here; two, the capital city Reykjavík also lays on the west coast of the island; three, you can visit many of the most spectacular sights in this part of the country. From the whole circle around Iceland, you'll thus meet the majority of the tourists here.
The most famous and also most visited tour in this area is the Golden Circle tour, with many breathtaking places. First stop of the tour is the Þingvellir National Park, which is not only a location, where the Atlantic ridge is visible above the sea level but also a place, where the world's oldest parliament was established. You can actually walk between American and European tectonic plates, which are moving two inches apart each year. Because of the beautiful natural formations, lakes and waterfalls in this park, many movies/series were taken here, e.g. Game Of Thrones.
Next stop of the Golden Circle is Geysir Geothermal Area is, with two geysers of which one, Strokkur, is active and erupts every 5-10mins and his father Geysir, according to which all the geysers got their name, that now erupts once in a couple of years.
One of the most beautiful waterfalls Gullfoss, the golden waterfall, is also part of this tour. In a sunny day, taking a selfie with Gullfoss surrounded by several rainbows is a guarantee for plenty of likes on your social media 😉
Usually the last stop of the Golden Circle is a volcanic crater Kerið, with a beautiful lake in it, which changes colour according to the weather. Because of its huge size and oval shape, several concerts took place on this venue.
The Notrthernmost Capital City
Reykjavik is the northernmost laying capital city in the world. It's relatively small, so a walking tour is just the right way to see it properly in a couple of hours. You can see the whole city from Perlan observation deck, or if you're more adventurous, you can climb the mountain Esja and have a splendid view of the whole area. Don't forget to visit the Höfði house, which was the venue of the Reykjavík Summit, where presidents Michael Gorbatsjov and Ronald Regan ended the Cold War. You can also visit the Harpa Concert Hall. And the last but not the least, don't forget to see Iceland's most iconic church, Halgrímskirkja, which is also the highest building in Reykjavík.
When visiting the west coast peninsula Snæfellsnes, seeing a Volcano Snaefellsjokull is a must. It is a place, where the journey to the centre of the earth begins and during bright days it's actually visible even from Reykjavík. A black beach near to an abandoned farm Ytri Tunga is a perfect place if you wish to see some wild seals. Worth visiting are also the Arnastapi and Hellnar cliffs, which used to be Iceland's very important trade harbours. These amazing cliffs, settled by elves and trolls back in time, are now home to many sorts of local birds. Before leaving the peninsula, stopping to see a beautiful mountain Kirkjufell is also a thing you should do, before continuing on your amazing trip around Iceland.

Northern Iceland 
Despite many people think, that this is the coldest part on their way around Iceland, the truth is, it's the sunniest one. Everytime time it rains in Reykjavík, the capital of the North-Akureyri enjoys the sunshine. The dominant of the city is a church called Akureyrikirkja, which is situated on a hill above the city and has a wonderful view of the Eyjafjörður fjord.
Another famous sight in the north is the Mývatn lake, which is one of the biggest and most beautiful in the whole country. Since it's located in a geothermal area, you can also visit a natural hot bath nearby.
When taking children with you, (or if you're a big child) then don't even think to skip Dimmuborgir, a home of thirteen Icelandic Santa Clauses.
A unique thing you just have to see in Iceland are whales. Best place for whale watching is town Húsavík, where you can find many tours, that will take you to waters, where these huge mammals occur in really high numbers.
In Asbyrgi canyon, you can find Iceland's biggest forest and since only 1% of the country is covered with trees, it is something very unique.
There aren't that many iconic waterfalls like in the south, but worth visiting are definitely Dettifoss, Selfoss and the waterfall of Gods-  Goðafoss.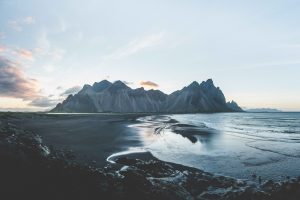 Eastern Iceland
To see the typical hot pots with boiling mud, visit Hverir geothermal area, which is nearby a geothermal power plant Krafla. Next to the power plant, you can find a crater with the same name and a lake with warm water and the juiciest colour of blue you'll ever see.
The most important town of this part of the country is Seyðisfjörður,  Which is also a harbour for many ferries sailing to the Faroe Islands and Danmark. Except for a spectacular blue church. Near by capital of eastern Iceland – Egilsstaðir is short trek, where you can see a majestic waterfall Hengifoss and his little Brother Littlanesfoss, surrounded by magnificent basalt pillars. If you're really lucky, you can spot a gigantic monster worm, Lagarfljótsormur, lives in the lake Lagarfjót.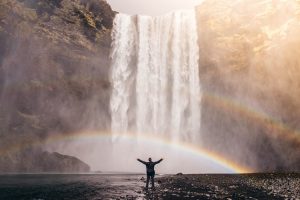 South of the country is home to the most beautiful and specific waterfall Seljaladsfoss, with a height of 180 feet, located 20 miles away from the town of Skógar. The uniqueness of this waterfall is that there is a cave behind it and so it's possible to see it from a totally different perspective. Right next to it, there's another beautiful one called Gjúfrafoss and it's also possible to go right under it.
Skogafoss is a waterfall with a perfect shape and its beauty is in the huge amount of water flowing there. Fans of the series Vikings can be familiar with this one 😉 Just a few minutes of walk from there, a real treasure is hidden- the Kvernufoss waterfall, which is still not so touristy, so psst.
Next stop of the south part should be the Dyrhólaey view, from which you'll be able to see the iconic and the cutest birds of Iceland-puffins.
From there you can continue to a Reynisfjara coast with its typical black sand beach and basalt pillars.
The biggest lava field Eldhraun is also a place worth stopping and just enjoying the view and a few minutes of driving from there you should definitely stop at Kirkjubaejaklastir with its beautiful canyon- Fjaðarglúfur. On the way there, you'll be able to spot the biggest glacier of Iceland-Vatnajökull.
The jewel of the south coast is definitely the iceberg lagoon-Jökulsárlón in which you'll see many glaciers/icebergs in the water on their way to the ocean. A wonderful walk to a nearby Diamond Beach with more icebergs is something you really want to experience.
South coast is also a good option if you're staying in Iceland for a day or two and looking for a trip from Reykjavík you will always remember.
If you want to get as much from your trip around Iceland as possible, feel free to contact us 🙂