Many travellers will agree, that the worst part of every vacation is packing your luggage. You never know, what you'll need in the destination and deciding whether to take five T-shirts or just four seems like an impossible task. So let's see what to wear in Iceland.
When people ask a question: what to wear in Iceland, it deserves special attention.  Even though it might be sunny at the moment and so you joyfully walk outside wearing your brand new shorts you just bought in Greece and you just need to wear them (who cares, that the name of the country contains the word Ice…),  it is really possible, that the moment you regret it is coming soon. Not even locals can predict what to wear just by looking outside and they actually have a special phrase for weather, that looks fine, but as soon as you go out it turns out to be your nightmare and they call it Glugga veður, meaning "window weather". They are also saying "If you don't like weather, wait 5 minutes. It can be ever worse". So here are our tips what to wear in Iceland.

It is, therefore, crucial to come here well prepared and don't underestimate anything. Don't get confused by many tourists you'll see in the middle of nature wearing suits or walking with high heels. They are "professionals" you should bring something more appropriate 😉
This article will thus try to help you as much as possible with your problem of "What should I pack into that rainy cold country with unexpected weather".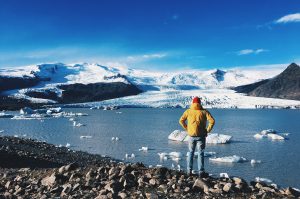 What you should definitely pack to Iceland
Shoes, Shoes and once again Shoes. Please don't be one of those professionals mentioned above, that thinks he/she is on a fashion show which is taking place on a huge glacier. For this kind of catwalk, trekking gore-tex shoes will suit you much better, trust me. Spending your vacation time in a hospital (in the better case) after slipping on a wet cliff is probably not what you are planning. And yes, you will probably have to walk on wet slippery, muddy, dirty surface, so waterproof shoes with appropriate insulation is definitely a good investment. In case you're not doing any difficult hiking, pack also your favourite comfy sneakers, so your feet get some vacation as well.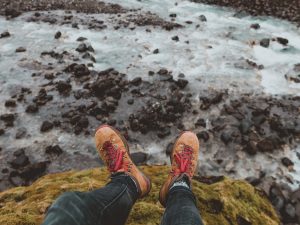 NOW PAY ATTENTION, THIS TIP MAY SAVE YOUR FEET FROM A DISASTER!
If you buy new shoes, try them home at first, some time before real hiking. Do some shorter walks to make the shoe adjust according to the shape of your foot. I know you just want to look good in your brand new trekking boots and you don't want to get them dirty before posting a cool picture from Iceland on your Instagram story, but believe me, after a broken heart, walking in shoes that are tight or don't fit you is the second worse pain. Considering the fact you'll have to wear warm thermal socks, it's not a bad idea to buy bigger size shoes than you usually do.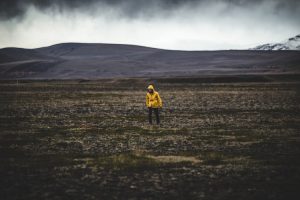 When it comes to pants, skinny jeans are also not what you want to wear during long hours sitting on the bus and then sweating on a hike outside. The choice is simple: wear something comfy and sporty, the best is to wear outdoor trekking pants or thermal/merino leggings for ladies with proper insulation. Despite what was written above, take the shorts as well, sometimes it's just above 68 °F and you really wish you didn't listen to that blog telling to dress like an Eskimo. For a 10 day journey, two thermal pants and shorts is just enough. Of course, if your plans are staying in Reykjavík and have a drink or too in the evening, wearing thermal trekking pants will definitely not help you to pick up that Icelandic chick sitting alone on the bar. So skinny jeans-yes, but only for certain occasions 😉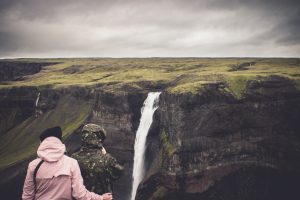 Regarding your top, keep it simple, take some comfortable sports T-shirts, both long and short-sleeved and it's definitely worth having a thermal/merino ones too. When going for longer tours, having one T-shirt for each day is not a bad idea either. You will probably get sweaty and since you don't want to smell in the bus and they still don't have public washing machines in Icelandic lava fields,  this is an advice you should remember.
Taking a sweater/sweatshirt is hopefully clear enough for everyone, who knows at least roughly where this country is located. Again, I suggest taking at least two for a more than 4-day journey.
And the last top layer should, of course, be a water and windproof jacket, not necessarily a winter edition, but warm enough to protect you from water and wind (hopefully not fire).
A hat, gloves and a scarf should also be considered, even though they're not always needed, it's nice to have them with you just to feel you are secured. The same counts for sunglasses and a sunbathing cream, you just never know.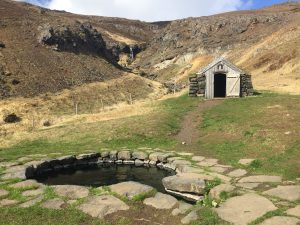 Things Unexpected To Wear In Iceland
The last but not the least, SWIMMING SUIT.  Don't even consider coming here without it. Why? Iceland is just full of geothermal areas with various pools, spas or just natural hot springs, where you can take a break after a long trip and enjoy what mother earth gave to this wonderful country. OUR TIP: If you want to go to Blue Lagoon don't forget to book it at least one month before your visit because it's the most popular place in Iceland and it could be sold out.
All these helpful pieces of advice should be considered by people visiting Iceland during the main tourist season, which means May-October. During the winter, warmer clothes are mandatory, but no worries, the temperature doesn't fall down below 14°F very often, so even if you come here in December, you won't freeze to death 🙂 So now you know what to wear in Iceland and you are ready to come and see this beautiful country.
http://dtravel.is/wp-content/uploads/2018/07/linas-bam-204038-unsplash.jpg
2000
3000
Administrator
http://dtravel.is/wp-content/uploads/2018/07/dtravel-logo-new2018-340x156px-300x138.png
Administrator
2018-07-16 16:44:28
2018-07-16 16:46:49
What To Wear In Iceland